Launch Event of HKU MOOC Dinosaur Ecosystems – October 4th 2018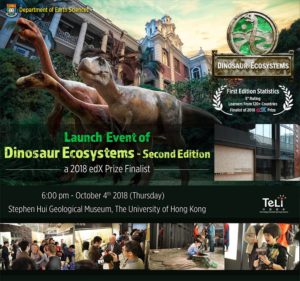 On Thursday October 4th 2018, we will launch the second edition of Dinosaur Ecosystems, HKU's prize-nominated MOOC course that I produced and teach.
RSVP at http://hku.to/dinoxlaunch2018 (limited places filled on a first come first serve basis)
Dinosaur Ecosystems 2nd Edition Trailer

The Second Edition starts on October 4th 2018! Join our 6-week course to learn how palaeontologists use animal and plant fossils as well as living forms to reconstruct dinosaur ecosystems. Enrol here: www.edx.org/course/dinosaur-ecosystemsWe are thrilled to share that the course is a finalist for the 2018 edX Prize for Exceptional Contributions in Online Teaching and Learning!edX announcment: https://blog.edx.org/congratulations-2018-edx-prize-finalistsIn the second edition, we bring you to new fossil sites in more countries. We hope you enjoy your time with us!Michael PittmanThe University of Hong Kong – HKU – 香港大學HKU e-learningFaculty of Science, The University of Hong Kong

Posted by Dinosaur Ecosystems on Wednesday, September 12, 2018
Course trailer
You can enrol for free at www.edx.org/course/dinosaur-ecosystems
Follow the course on Facebook and Twitter
Find more about our nomination for the 2018 edX Prize for Exceptional Contributions in Online Teaching and Learning at https://blog.edx.org/congratulations-2018-edx-prize-finalists?track=blog
---
International Palaeontological Congress 5 – Paris, France
 From July 9th – 13th, I attended the fifth International Palaeontological Congress in Paris, France. I presented two talks on theropod flight origins and my collaborator Dr. Diego Pol presented a third talk on our recent work on phylogenetic methods. The congress was really enjoyable and productive. I joined a post-congress fieldtrip to the famous Early Cretaceous Angeac-Charente locality, which involved helping with their on-going excavations. I produced this video on it as part of the upcoming second edition of my HKU MOOC Dinosaur Ecosystems.

Diego presenting our talk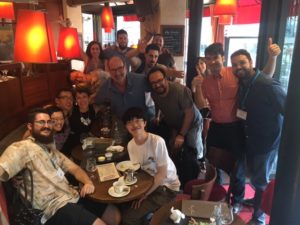 A gathering of bird researchers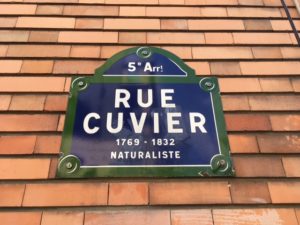 A road named after the famous naturalist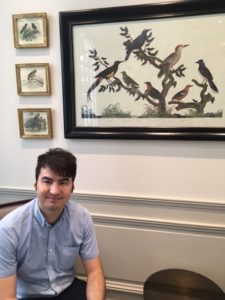 Even the hotel was bird-themed!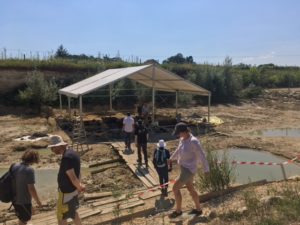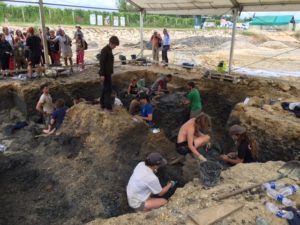 Excavations at the Angeac-Charente locality. The site is famous for its herd of ornithomimosaurs.
---
Inaugural International Pennaraptoran Dinosaur Symposium hosted at HKU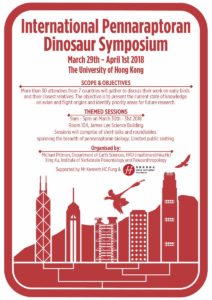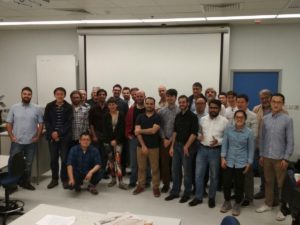 Symposium poster                                   Group photo of attendees
From March 29th-31st, our lab hosted the inaugural International Pennaraptoran Dinosaur Symposium at HKU with Prof. Xing Xu (IVPP). 30 attendees from 7 countries shared and discussed their work on pennaraptoran dinosaurs to deepen our understanding of avian and flight origins. The symposium: documented existing points of consensus and disagreement in the field; built consensus in new areas through symposium discussions; reported cutting-edge discoveries in new areas of research and discussed their future directions. The results of the symposium will be published in a journal volume in 2019 and focuses on the consensus that was built on unresolved issues.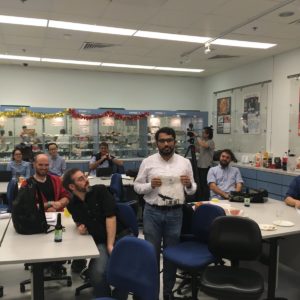 Mr. Arindam Roy collecting his best talk prize on day 2. Mr. Josef Stiegler (GWU, USA) was awarded the best talk prize on day 1.  Thanks to our judges Dr. Peter Makovicky and Dr. Hans Larsson!
---
A new species of crownward troodontid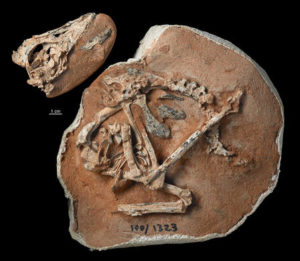 Almas ukhaa, a short-snouted crownward troodontid
In December 2017, Dr. Rui Pei, an ex-VPL postdoc, announced the discovery of Almas ukhaa, a new species of short-snouted crownward troodontid from the Late Cretaceous of Mongolia. Almas is described in the paper 'Osteology of a new Late Cretaceous troodontid specimen from Ukhaa Tolgod, Ömnögovi Aimag, Mongolia' in American Museum Novitates.
---
The mandible of Gigantoraptor, the largest beaked theropod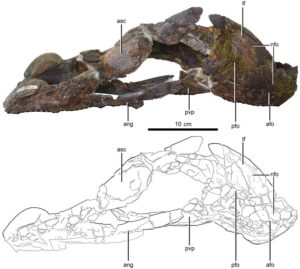 The mandible of Gigantoraptor, the giant oviraptorosaur.
In November 2017, Ms. Fion Wai Sum MA, an ex-undergraduate student of mine, published her first scientific paper in Scientific Reports on the 'Functional anatomy of a giant toothless mandible from a bird-like dinosaur: Gigantoraptor and the evolution of the oviraptorosaurian jaw'.
This paper is the first detailed description of the spectacular jaw of this iconic oviraptorosaur and leverages new insights to comment on the evolution of the oviraptorosaurian jaw. This study was part of Fion's faculty Overseas Research Fellowship and departmental Final Year Project, both of which were co-supervised by Prof. Xing Xu of the IVPP. This project was completed in collaboration with colleagues in Inner Mongolia, including Prof. Lin Tan of the Longhao Institute of Geology and Paleontology.
Fion is continuing her work on the oviraptorosaur skull as an MSc student of Dr. Stephen Brusatte at the University of Edinburgh. Fion will be starting a PhD on the same subject at the University of Birmingham in October 2018. Her supervisors will be Dr. Stephan Lautenschlager, myself and Prof. Richard Butler.
---
A new species of asymmetrically feathered troodontid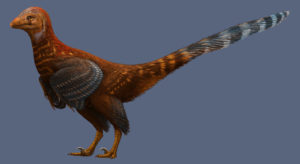 Jianianhualong tengi an asymmetrically feathered troodontid
Jianianhualong tengi  is from the Early Cretaceous of Northeastern China. It has transitional features and along with Sinusonasus provides evidence of mosaic evolution in troodontids.
The asymmetrical feathers in this taxon represent the first record in a troodontid. Taken together with other paravian feathering data, this new find suggests that the common ancestor of Paraves possessed asymmetrical feathers too.
The study is co-lead with Prof. Xu Xing of the Institute of Vertebrate Paleontology and Paleoanthropology (Chinese Academy of Sciences) and Prof. Philip Currie of the University of Alberta (Canada).
Life reconstruction by Julius T. Csotonyi.
Select coverage at:
Forbes.com www.forbes.com/sites/shaenamontanari/2017/05/02/a-newly-discovered-dinosaur-has-tail-feathers-like-modern-birds/#4bbcc1536c1d
National Geographic http://news.nationalgeographic.com/2017/05/fossil-dinosaur-theropod-feather-evolution-discovery-china/ (commentary by Dr. Ryan Carney)
CBC www.cbc.ca/news/technology/feathered-dinosaur-evolution-birds-1.4090351
am730 (in Chinese) www.am730.com.hk/news…
The Standard www.thestandard.com.hk/section-news.php?id=182563
---
Feathered dinosaur Anchiornis in the flesh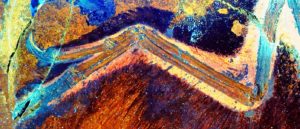 The wing of the stemward paravian, Anchiornis.
In this study, we produced the first quantitative body outline of a feathered dinosaur with the help of laser-based fossil imaging (laser-stimulated fluorescence imaging). We used these data as other soft tissue details of the wing and feet to comment on the functional anatomy of stemward paravians.